Hello !
I'm working on a virtual project, about BENDIX TROPHY.
In 1955, winner was Col. Carlos Talbott, with a F-100C s/n 53-1777, based on Foster Air Force Base (Texas).
In this period, Talbott was commander of the 322d Fighter Day Group (but I'm not sure the record aircraft come from his group).
I want to do this repaint for the Milviz Hun, even if it is a different model.
But it's very difficult to find informations, especially scheme (look for pictures below), colors, or others details (insigns, i.e.).
I find various informations like Sq. color code : 450 FDS was red, 451 yellow and 452 was green.
[update]I think 777 was in 452, 'cause insign in first below picture is the same...
I find also somes (very rares) b&w pics...
For example, like you can see, nose was not the same on below pics. Same problem with the front strip.
452 FDS insign
This Hun have a different s/n but look like similar...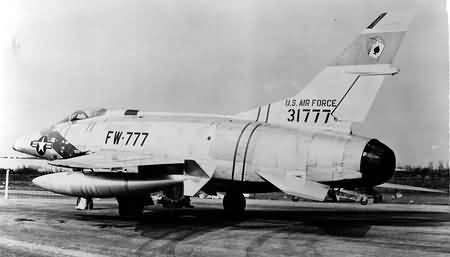 So, If anybody can give me information about this Hun, it will be very appreciated !
Cheers
Mike "COYOTTE"
---
---